Crime in England and Wales: year ending December 2017
Crime against households and adults, also including data on crime experienced by children, and crimes against businesses and society.
While crime has fallen over the long-term, the short-term picture is more stable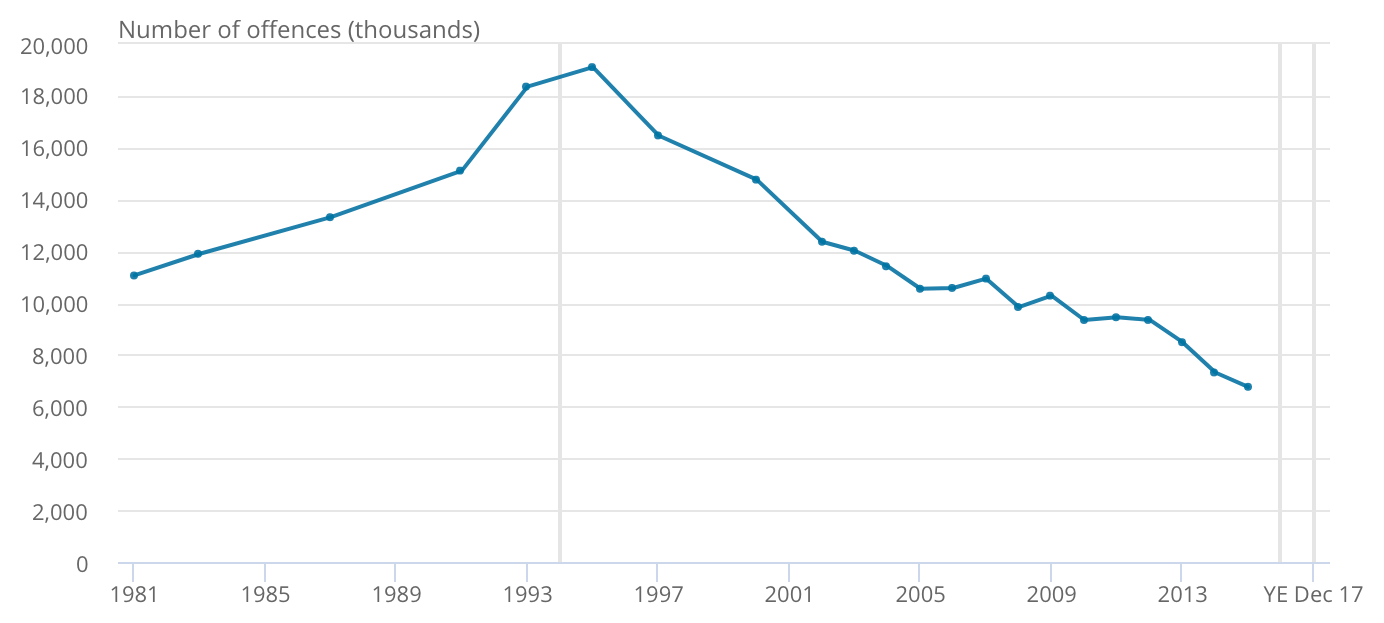 A fall in crime estimated by the Crime Survey for England and Wales (CSEW) was mainly driven by a 28% decrease in computer misuse offences.
Police recorded crime data shows a a 22% increase in offences involving knives or other sharp instruments and a 11% increase in firearms offences.
Released date: 26 April 2018
Next release: 19 July 2018 (provisional)
Summary
The latest estimates from the Crime Survey for England and Wales (CSEW) show that most types of crime have stayed at levels similar to the previous year. When looking at the main types of crime, changes were only seen in:
computer misuse offences (28% decrease to 1.37 million offences), which drove the fall in overall CSEW crime
vehicle-related thefts (17% increase to 929,000 offences), which is supported by a 16% increase in vehicle offences recorded by the police to 452,683 offences; a category that is well reported to the police and thought to be well recorded
All other main types of crime measured by the survey showed no change.
The latest CSEW estimate of 10.6 million crimes against the household population may seem like a big number, but most people do not experience crime. The survey showed that the large majority of adults (8 in 10) were not a victim of any of the crimes asked about in the survey in the previous 12 months.
Read more

Police recorded crime data showed evidence that violence was at a similar level to the previous year.

There is evidence of rises in some more harmful, less frequently-occurring offences, such as:

offences involving knives or sharp instrument (up 22% to 39,598 recorded offences)
offences involving firearms (up 11% to 6,604 recorded offences)

These offences tend to be disproportionately concentrated in London and other metropolitan areas; however, the majority of police force areas saw rises in these types of violent crime.

Statistician's comment

"Today's figures show that, for most types of offence, the picture of crime has been fairly stable, with levels much lower than the peak seen in the mid-1990s. Eight in ten adults had not experienced any of the crimes asked about in our survey in the latest year.

However, we have seen an increase in the relatively rare, but "high-harm" violent offences such as homicide, knife crime and gun crime, a trend that has been emerging over the previous two years. We have also seen evidence that increases in some types of theft have continued, in particular vehicle-related theft and burglary."

— Alexa Bradley, Crime Statistics and Analysis, Office for National Statistics
Data
Geography: national level and by police area, reflecting the territorial police forces in the United Kingdom.
Weapons offences: homicide, attempted murder, threats to kill, assault with injury and assault with intent to cause serious harm, robbery, rape, sexual assault.
Time periods: 2017-18 Quarter 1 (January to March) and 2017-18 Q2 (April to June).
Need to know
What do you need to know about these numbers?
An increase in the number of crimes recorded by the police does not necessarily mean the level of crime has increased.
For many types of crime, police recorded crime statistics do not provide a reliable measure of levels or trends in crime.
They only cover crimes that come to the attention of the police and can be affected by changes in policing activity and recording practice and by willingness of victims to report.
The CSEW does not cover crimes against businesses or those not resident in households and is not well-suited to measuring trends in some of the more harmful crimes that occur in relatively low volumes.
For offences that are well recorded by the police, police figures provide a useful supplement to the survey and provide insight into areas that the survey does not cover well.
How do we measure this?
This bulletin primarily reports on data from two main sources of crime data: the Crime Survey for England and Wales (CSEW) and police recorded crime.
The user guide to crime statistics for England and Wales provides detailed information on the datasets used to compile crime statistics.
Glossary
Sharp instrument
A sharp instrument is any object that pierces the skin (or in the case of a threat, is capable of piercing the skin), for example, a broken bottle.
Police area
A police area is the area for which a territorial police force in the United Kingdom is responsible for policing.
Related
Police recorded more crimes involving weapons, with knife crime in cities rising most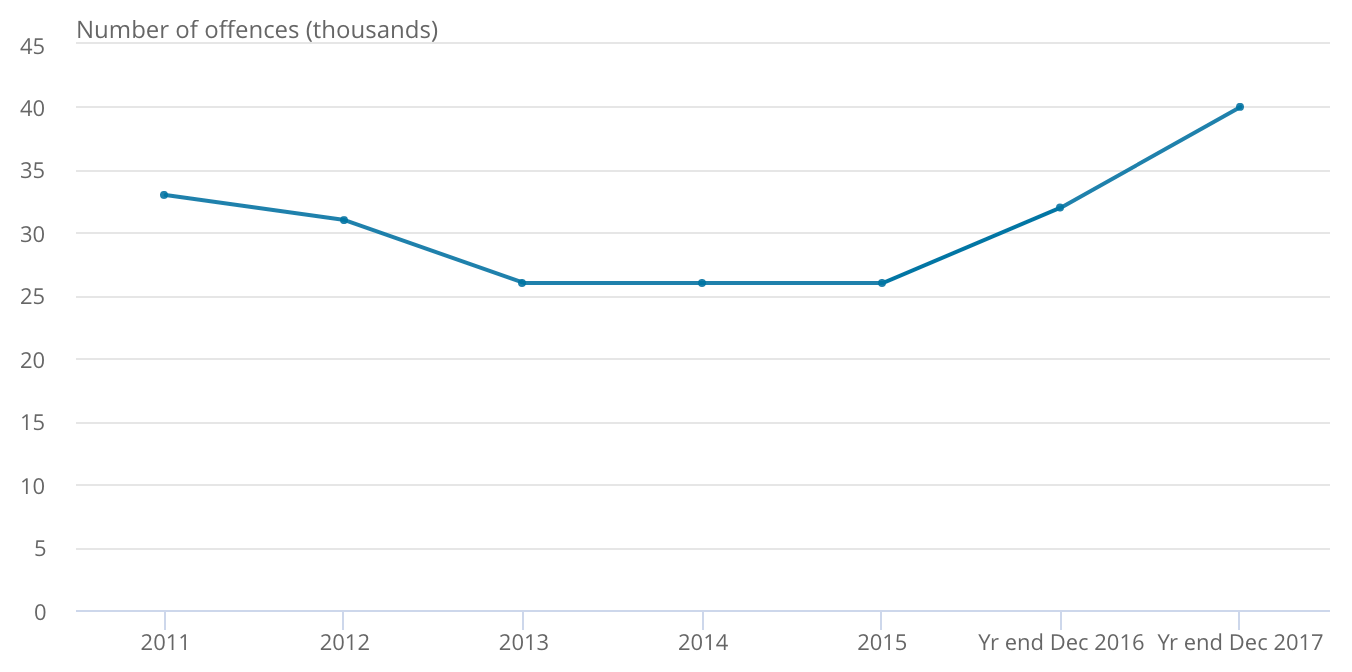 What do you need to know

Police recorded crime is not a national statistic
The number of homicides has been impacted by recent terrorist attacks
Homicides recorded by the police fall 1% to 688
What do you need to know

These numbers are also affected by the 2017 Hillsborough verdict